Приглашаем к сотрудничеству продюсеров, организаторов
концертов и музыкантов, работающих в похожем жанре !
Прект ищет музыкантов, готовых участвовать в развитии, а также объединиться с другими творческими коллективами для проведения
совместных гастролей.


Townshadows project

I want to present a some albums from my project. If you are interested my creativity, we can cooperate.
Ещё на
My Space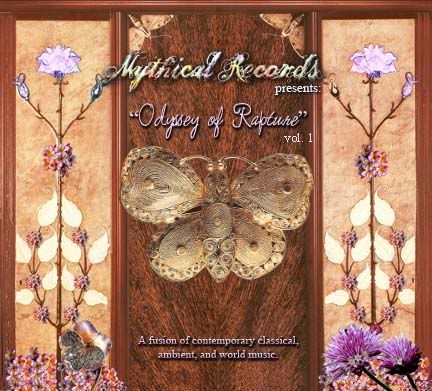 Mythical records
, is now taking pre-orders for their new compilation "Odyssey of Rapture" vol. 1. The album includes newage and neo-classical compositions by Abandoned Toys, Library Tapes, The synthetic dream foundation, Hannah Fury, Samantha Bouquin, Ephemeral mists, and many more great composers/artists. The official release date is Dec. 10th 2008. The full track list includes:
1. David Reyes "The magic woods"
2. Library Tapes "The rivers turned to cobblestone"
3. Abandoned Toys "An expanding tremble"
4. Ephemeral Mists "A pale slumber"
5. Phanatos "Voyage (quest for the shores of aphrodite)"
6. Aranis "Vala"
7. The new pollutants "Kidnap theme"
8. Hana (Jeff Greinke & Anisa Romero) "Hide"
9. Michel Avannier "La rencontre"
10. The synthetic dream foundation w/ Hannah Fury "Trapeze"
11. MePhI "Crystal night"
12. Aonua "Spirit of the deep"
13. Fiona Joy Hawkins "Contemplating"
14. Samantha Bouquin "Tale for a sunken moon"
15. Scythelence "Transparent eyelids"
16. Enigma de Ultratumba "To my unrest"
17. Samanta Ray & Pete Ardron "Interuterion 3"
tracks from their 1996 italian tour has been uploaded by Maclen on Dime as
Torrent #192982. A single version of the song "Magick Brother" can be found
on my profile page at myspace.com. Below's a photo with Zero and Bloom
from the same year. Good luck to all fans, and happy listening!
Andrea Bartelucci
L to R: Daevid Allen, Didier Malherbe, Andrea Bartelucci
(Venice, 1996)
A rare concert of Daevid Allen's Magick Brothers with myself on flute on two
Crónicaster - выпуск лайвов, выступлений и прочее музыкантов с рекорд лейбла Cronica.
Выпуск 27 - очень клёвый free mp3 cет The Beautiful Schizophonic - интересного концептуального проекта.
27 mb - 24-12 минут высококлассного саундскейпа, дронов.
Download file Время жизни файла ограничено ! Всё предыдущие выпуски Кроникастеров уже не доступны для скачивания ' загрузки.
Marvellous sweeping drones take us back to memories of deserted landscapes. This is the soundtrack of an impossible road movie, of simple complexities and multi-tonal melodic formations, geological oddities through which we travel, while admiring their uniqueness. This is The Beautiful Schizophonic, performing live for the first time in Portugal.
Записан в декабре 2007 в Passos Manuel, Porto.
Моё знакомство с сим проектом началось случайно, с CD альбома The Beautiful Schizophonic - Musicamorosa (кстати, он пока ещё есть в наличии в CD шопе TheSound.ru)
Track #1 is a collaboration with Paulo Silva (Arcano Zero); electric guitar on #5 & #6 by José Luís Merca (Matéria Prima); acoustic guitar on #9 by Tobias Strahl (Dies Natalis); #13 remixed by @c; "La letrice" is Colleen (Cécile Schott) reading Proust in Paris. Colleen appears courtesy of The Leaf Label.
Cover art by Christina Vantzou, design and master by MCarvalhais. Sound design by Jorge Mantas, recorded between 2005-2007.
du fond du sommeil elle remontait les derniers degres de l'escalier des songes - кусочек трека из альбома The Beautiful Schizophonic - Musicamorosa
Новый бизнес, отличный хостинг, синонимайзер, интервью с Mum, интервью с продюсером portishead и всё такое.
Те кто всё-таки скачал альбом Cave, который я тут недавно
выкладывал
, могли заметить в песенке Sin & Confession нечто уже знакомое.
Если вы так и не вспомнили где вы это могли слышать, то скачайте предлагаемый альбом и всё поймёте-)
1995 - Heaven to Hell=320.part1.rar
| 95.78 Мб | mp3 | 320 kbps
1995 - Heaven to Hell=320.part2.rar
| 52.68 Мб | mp3 | 320 kbps
В архивы добавлено 5% информации для восстановления
Пароль:
oluckyman
Abandoned Toys makes some of the most beautiful new age music that I have come across lately. If you like the genre, you should really look into their album, "The witch's garden".
Abandoned toys
12.03.2008 New free mp3 electronic music releases
Ursula - Sunbird Steals My Distant Eyes (Pulsations For You, puls10)
Group Ursula earlier known as Shelled Psychedelic Orchestra (Shelled), the first CD release it was issued in far 1998 on independent label Falcata-Galia Records, from USA.
The given release - completely distinguished from previous the work. Ursula - «Sunbird Steals My Distant Eyes» is one of the most fantastic albums of group, nice mix folktronic, FSOL, ambient, electronic music.
On this album it is already distinctly observed displacement of style of group aside extreme linear ambient, sometimes such quiet and solar, sometimes lulling, sometimes thrown out in bright landscapes, dipping into bottomless open spaces of oceans.
Music strongly uses sounds of the nature, singing of birds, conversations of dolphins, a rustle of foliage, causing in consciousness of the student fantastic images. .

Download full mp3 album - Ursula - Sunbird Steals My Distant Eyes - VBR
XYDZO - Y (Pulsations For You, puls09)
Y is perfect fusion of ethnic instruments with electronics.
Y is some other sight, a sight under other corner. There is no feeling, that the author speaks from a stage with a hall. More likely, it is a sight from within, it is a voice of the nature, noise of the Karelian taiga, the sun of Africa, a pulsation of polar light and, simultaneously, silence and infinity.
Go, wheezed the old stag, almost completely buried under snow
Go, a hardly audible whisper passed by swiftly with snow flakes in the wind
Go, reflected clear ringing echo in the head, drowning the noise of the wind
all themes by xydzo
alebet: vocal by zuzina
eiughe: drum & vocal slices by glen velez
djug: vocal sample drained from elder icelandic phonograph record

Keywords: folktronika, folk, ethno, electronic music, world

Cave.part1.rar
| 95.78 Мб | mp3 | 320 kbps
Cave.part2.rar
| 59.45 Мб | mp3 | 320 kbps
В архивы добавлено 5% информации для восстановления
Пароль:
oluckyman
Уж не знаю впишется ли это в стиль ньюейдж? В некоторых местах точно нет-)
Ну модератор удалить всегда успеет-)
(местами дип форест, местами энигма)

( послушать, полюбоватьсяCollapse )

Скачать с ifolder:
Tibet (2003).part1.rar
| 95.78 Мб | mp3 | 320 kbps
Tibet (2003).part2.rar
| 54.89 Мб | mp3 | 320 kbps
В архивы добавлено 5% информации для восстановления
Пароль:
oluckyman
Буду очень благодарен, если кто-то выложит японский нью ейдж.